Ledig stilling: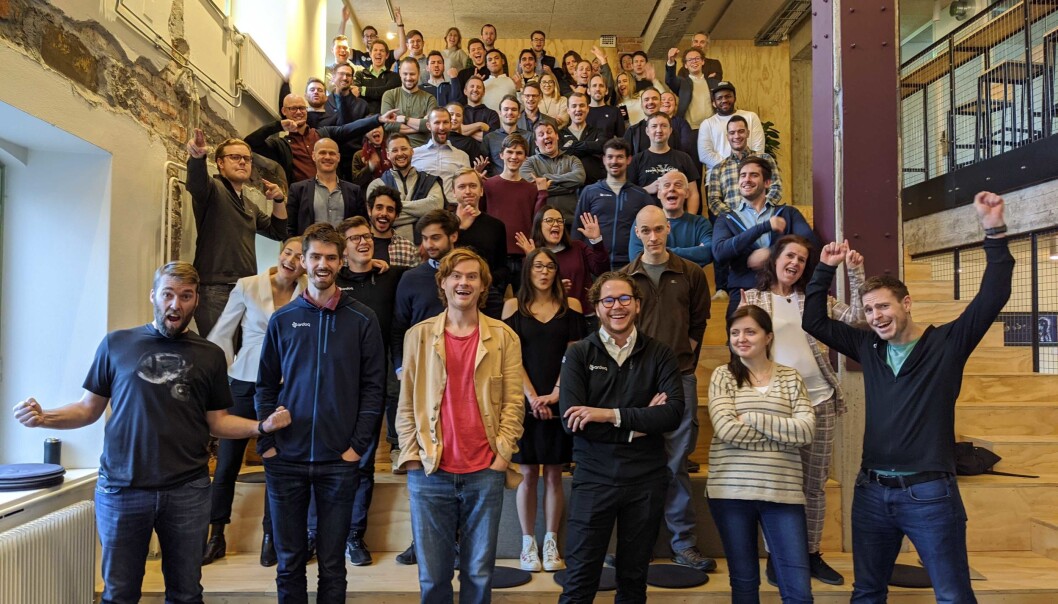 Account Executive - Ardoq
Want to build your sales career in a Nordic scale-up? Become part of a strong community and be part of an exciting journey.
Copenhagen or Oslo locations.
(Reports to: Sales Director – EU)
Due to the rapid expansion of Ardoq, we are looking for a collaborative and enthusiastic colleague with strong interpersonal skills and a natural curiosity about business and technology.
As our new colleague you will be responsible for connecting and supporting new prospective customers in their digital transformation journey. You will be a key figure in the commercial strategy of the Copenhagen/Oslo offices and cooperate with potential customers to understand their needs, provide solutions and give them sparring and support. In collaboration with our Solution Specialists, you will become our potential customer's trusted advisors in their journey to create a living digital blueprint of their organization.
You will be part of strengthening an inspiring company with an increasing global presence, joining an exciting journey with an international and diverse team. While supporting leading, international companies in defining and shaping their future digital strategies, you will contribute to Ardoq's commercial development working from either our HQ in Oslo or office in Copenhagen.
With Ardoq's core values being BOLD, CARING, and DRIVEN, you are happy to take on a challenge, but have an empathetic approach to communication and thrive on building honest relationships.
You will be part of an inclusive and collaborative team of eight loyal colleagues who work closely and support each other on a daily basis, remotely or in the office when times allow. Furthermore, the team is supported by a Marketing department supplying content and lead generation.
As our colleague, you will act on pre-qualified leads and self-generated opportunities, understanding the customers' main business challenges and how Ardoq as a platform can support their initiative.
Your success will depend on your capabilities for collaborating with customers and delivering solutions addressing the customer's needs. These capabilities are more important for success than persuasion capabilities, such as influencing customers and driving outcomes.
We value a loyal and open culture, where self-reflection and dialogue is key in ensuring continuous development of ourselves and the team. Most important is your ability to understand the need of creating business value for our clients, as our customer's success is key.
MAIN ACTIVITIES
To support and collaborate with our customers in a sales process by ensuring a transparent, pleasant and effective customer experience.
Facilitating customer collaborations, understanding their needs, and presenting them to the Ardoq platform
Take full responsibility when entering customer negotiation and commitment phase by collaboration closely with customers and internal stakeholders.
Understand and build trusted relationships with stakeholders, resulting in growth opportunities.
Contribute with your personal and professional competencies to help build the Ardoq culture.
Drafting proposals and contracts, and ensuring that all details are considered in the process
Actively seek new knowledge to ensure team development
WORKING AT ARDOQ
At Ardoq we value people and our cultural lifestyle centers around passionate and compassionate colleagues.
At Ardoq you will become part of an enthusiastic team where we value each other's differences, support each other and collaborate to make a difference for our customers.
Working from offices in Oslo and Copenhagen, we offer a flexible working environment so you can create a work-life balance that
suits you. We put people at the forefront, and when you join Ardoq, your leader will follow your development closely. Together you will make sure that your skills are applied in the best way.
CANDIDATE: KNOWLEDGE AND EXPERIENCE
We are looking for colleagues who can contribute to the team. Your interest and enthusiasm for understanding our customers' complex issues and strong urge to support will drive our success.
We are curious to learn how you can become a part of the journey. Your background and education are not definitive, instead we are looking for colleagues who are individually different - just as we are.
COMPANY PROFILE
Ardoq is a SaaS company reinventing Enterprise Architecture (EA) for today's digital enterprise. The company's dynamic, data-driven EA platform is designed to plan and execute major change initiatives – providing a digital twin of an organization's people, processes, systems, data and infrastructure. With Ardoq, CIOs can confidently deliver digital transformations; IT leaders can make better technology decisions based on timely information; and EAs can serve as change agents, supporting business and IT collaboration for better outcomes. Learn more at www.ardoq.com.
Ardoq is one of the fastest growing SaaS companies in the Nordics. The company was founded in Oslo, Norway in 2013 by Magnus Pilskog and Erik Bakstad. Realizing that Enterprise Architecture had a lot of potential to deliver value if it was modernized and kept pace with changes in business and technology, they established Ardoq. Now, 8 years later, Ardoq has over 100 employees, more than 125 customers across the world and has positioned itself as a 'Visionary' in Gartner's Magic Quadrant for Enterprise Architecture Tools.
Ardoq has a new take on EA, winning logos due to being data-driven and flexible and because of their great culture.
We work with some of the most forward-leaning and technology-driven organizations in the world, such as the Federal Communications Committee (US), WorldPay (UK), Schibsted Media Group (Nordics), Carlsberg Group (Europe) and Conde Nast (UK).
Ardoq HQ in Oslo houses Senior Management and development, while commercial teams are also located in Oslo, New York, London and Copenhagen to secure Ardoq's international expansion plans.
Ardoq HQ is located centrally in Oslo and the Copenhagen Office is located at Talent Garden Rainmaking Loft centrally in Copenhagen.
Learn more at https://www.ardoq.com