LEDIG STILLING
Backend Developer | Pio. Created by AutoStore
We are searching for a strong back-end developer as one of our first hires to take development of the Pio platform and Pio APIs inhouse.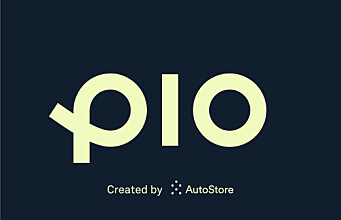 E-commerce has taken gigantic leaps in the last decade and the birth of independent and exciting brands is creating a diversified and exciting marketplace for consumers. Powerful software solutions make the online shopping experience great, but warehouse robotics is still reserved for the big players.
That's why we're creating Pio, a plug-and-play version of AutoStore tailored to small e-commerce. Pio will offer the amazing automation benefits of AutoStore, but with a new business model and a user-friendly approach to supercharge the growth for ambitious brands.
We believe the potential for Pio is enormous, and we have an exciting journey ahead with a new market, a new brand, and new ways of working. All backed by the world's best warehousing tech.
We're now building a team in Norway and New York to set the idea to life. We're looking to fill our first round of core team members with inspiring, dedicated, and bold people. This is the chance to get onboard early and play a key role in making something truly unique with global potential.
Our development team will be the heart of Pio and where all the innovation and new ideas to improve customer value creation come to life. The development team will be established over the coming year, and while ramping up you will be working closely with our excellent third-party developers. We are searching for a strong back-end developer as one of our first hires to take development of the Pio platform and Pio APIs inhouse. Come join us on this exciting journey to democratize warehouse automation!
Some responsibilities will include
Work closely with third party developers on development of the Pio platform (features and system performance enhancements)
Work closely with third party developers on development of the Pio APIs
Own maintenance and bug fixing in the Pio platform
Own maintenance and bug fixing of the Pio APIs
Work together with Pio Customer Success to solve cases related to the Pio platform and Pio APIs (second line support)
Get better understanding of the router traffic system together with AutoStore R&D, analyze today's Pio users and develop new strategies for Pio to get peak performance on smaller systems.
Build our monitoring system for Pio preventive maintenance, Pio robot & port swap logic based on the AutoStore API for system monitoring
What´s in it for you?
We can offer all our staff an exciting career opportunity filled with various challenges, high autonomy, and an environment where we care and cheer each other on.
As our Backend Developer you will develop groundbreaking technology that will be disruptive in the e-commerce market globally. The role will have a great impact on the development of the technology by creating what truly will make Pio special and different. You will also play an important role in the transition from outsourcing the development to being on an inhouse, high caliber team.
As one of our first hires you be an integral part of shaping the dynamics of the culture as well as the business itself.
Other benefits will include:
Competitive pay and benefits, including pension and insurance
Flexible work hours & a place where work-life balance is highly valued
An inclusive and safe work environment where diversity is embraced
Social events & fun
What is your background?
We believe our Backend Developer will have 2 years minimum relevant experience from backend development. You also have a BSc or MSc in Computer Engineering or similar.
Furthermore, we believe the right candidate also meet the following requirements:
Understanding of potential scaling issues (what will become a problem, what will be fine and requires fixes asap)
Proven track record in building web-app back-end and strong competence on web-app back-end architecture
Experience from developing, maintaining, and deploying python systems
Full stack experience favored but not required;

Experience with front–end development in React
Experience with FastAPI and PostgreSQL
Experience with Rust and Kubernetes based devops
Experience with developing APIs to e-commerce platforms such as Shopify and WooCommerce and / or Shipping Management Software such as Webshipper, ShipStation / ShipEngine and SendCloud
Experience with Azure Web Apps

Meticulous and thorough approach
We aim to create a team where all identify with our values and purpose. It is of utmost importance you relate to our brand personality by being Open, Proactive, Collaborative, and Daring.
Are you our next Backend Developer?
We want to find our new team members as soon as possible, therefore, we only require your CV at this stage. To apply – please follow the link and upload your CV.
If you need more information before you decide to apply, please feel free to get in touch with our recruiting partner, AvantGarde Search. You can reach them by following the link in this ad and request a full prospect over the opportunity.
About AutoStore
AutoStore, founded in 1996, is a robot technology company that invented and continues to pioneer Cube Storage Automation, the densest order-fulfilment solution in existence. Our focus is to marry software and hardware with human abilities to create the future of warehousing. The company is global with installations in over 30 countries in a wide range of industries. All sales are distributed, designed, installed, and serviced by a network of qualified system integrators we call Partners. With over 700 installations in over 30 countries, AutoStore is trusted by some of the biggest brands worldwide.