Ledig stilling: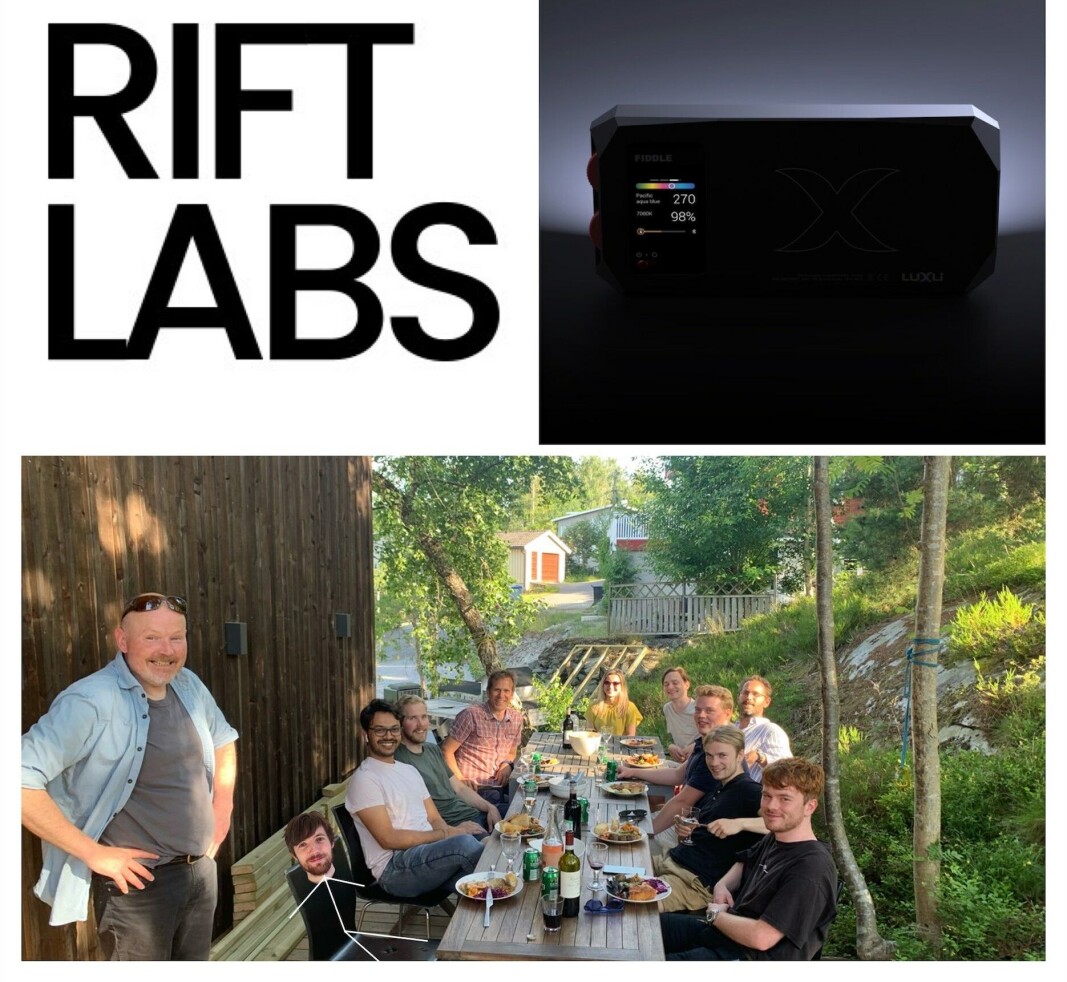 CRO/ Head Of Growth – Rift Labs
Would you like to join Rift Labs on our journey to become the next Norwegian scale-up adventure?
Are you excited by the opportunity to build your very own world-class commercial team? Are you the CRO/ Head Of Growth who will help Rift Labs to achieve our highly ambitious growth targets?
Rift Labs has come far within a short space of time, and now you get the chance to be an integral part of taking this company to the next level. We are hiring a Chief Revenue Officer / Head of Growth and we would welcome the opportunity to hear from you.

Welcome to Rift Labs - Who are we?
Rift Labs AS is a Norwegian based LED technology company with a unique hardware & software competence.
Since our inception we have been a technology pioneer and innovator within the photo and video industry, developing our own proprietary and patented LED lighting technology. We have a large installed base with more than 45.000 units sold to date, and our products are used and loved by photographers and video producers all over the world.
Utilizing unique and patented software, Rift Labs not only develop but also manufacture highly innovative quality lights, having won the prestigious Lucie technical awards and achieving our first commercial breakthrough in 2018.
We now see a tremendous potential for growth based on the company's core technology and expertise and we have defined an ambitious growth strategy to make us a strategically driven product company. This includes strengthening the organization and Rift Labs' position in photo and video, investing in new markets, and developing new products & services targeting the vertical farming industry as well as healthcare applications.
To realize our ambitions, we recently completed a highly successful fundraising led by the largest shareholder Karbon Invest, owned by Crayon and Link Mobility founders Jens Rugseth and Rune Syversen. It is the first time the company has raised external capital, with several prominent investors coming on board, including Datum, Carucel, and Preben Rasch-Olsen.
With two great locations, our headquarter in Vinterbro and soon to open a new office in Oslo!

The position of Chief Revenue Officer / Head of Growth
As our CRO/Head Of Growth, your most important mission will be to ensure that we unleash our revenue growth potential. You will be a key member of the executive leadership team, tasked with establishing and heading up the commercial team, including sales strategies, branding, marketing, communication, product management, business development, and customer support. You will be expected to provide strategic leadership across all aspects of the business, directly driving the organization to achieve key objectives in line with plans, strategy, and budget. But remember; as a small company, you will still be expected to be very hands-on - at least for now.
"We are extremely passionate about technology and innovation, and are strong believers that cooperation, fun and inclusiveness can lead to great things!"
At Rift Labs, you will have the opportunity to build a world-class commercial team. You will also have the opportunity to launch new consumer brands and innovative products to a global market, taking ownership of the company brand and setting the agenda for all commercial activities, boosting current and future revenue streams.
There is no such thing as a typical week at Rift Labs, as we are in a growth phase, creating new products, and expanding, so you will have a lot of room for shaping your work and doing what you love the most.

Short term - Key tasks and responsibilities
Establish and develop commercial strategies across all Rift Labs' business areas.
Plan, implement and manage commercial strategies, partnerships and sales processes for sustainable business growth, increasing our positive social impact.and reducing our environmental footprint.
Define and follow up on key metrics and KPIs for commercial activities,marketing communication efficacy and audience engagement.
Develop and fine-tune comprehensive brand communication strategies, including employer branding, media strategy, and raising public awareness.
Deliver market research collection, analysis, and interpretation of market data for short- and long-term market forecasts and reports.
Identify competitors and evaluate their strategies and positioning and devise counter strategies.
Stay up to date with the latest technology, brand standards, and best practices,.especially identifying relevant new technology to support strategy and growth.

In the near future - Key tasks and responsibilities
Define, build and develop a world-class commercial team, including organizational planning and recruitment.
Identify, plan, create and execute differentiated and impactful marketing.strategies across all digital and offline channels, driving lead generation and creating sales opportunities through digital marketing campaigns, content creation, brand ambassador programs, co-branding collaborations, etc.
Provide leadership, mentorship, and support to all staff in order to develop the talent needed to further a proactive organization, including career planning and appraisals.

What can we offer you?
As a part of the management team, you will be offered great autonomy and a great opportunity to build your own world-class team. You will have an enthusiastic and supportive team around you, and you will work with other incredibly competent and talented people to take Rift Labs to the next level.
Other positives include:
Opportunity to be in charge of Rift Labs company revenue streams.
An exciting role where both sales and marketing play a big role in driving growth.
Become a part of an exciting journey.
Career and personal development.
Competitive salary and benefit package, including participation in Rift Labs' stock-option program.

Who are we looking for?
You have experience with Product and Marketing Management, preferably at high-growth technology/e-commerce companies. We hope that you love tech, and in particular, tech where hardware meets software. You have strong leadership skills and a proven track record in building and executing successful commercial strategies for a global product company.
An international background or international exposure would be awesome and last, but not least; you must possess in-depth knowledge of the D2C value-chain.
Other key things we look for:
Relevant higher education, preferably a master's degree.
Relevant work experience in international D2C marketing and eCommerce, preferably experience managing a team and marketing budget, establishing new.brands, overseeing product launches and trade shows.
A good understanding of data and underlying metrics for driving performance in SoMe and other digital channels.
In-depth knowledge of cross-channel marketing, native advertising, programmatic, and the latest trends in digital advertising.
Next step
We would like to make this process as smooth and easy for you as possible. Ultimately, it is our job to ensure that you get as good insight into the company as possible. You can apply via the apply button, but if you would like further information prior to applying, then please get in touch with our recruitment partner, Fathia Omer in AvantGarde Search. Fathia will happily send you a full prospect with much more information about the company and the position. All confidential of course. [email protected]
Join us and let`s continue to build something awesome!