Ledig stilling: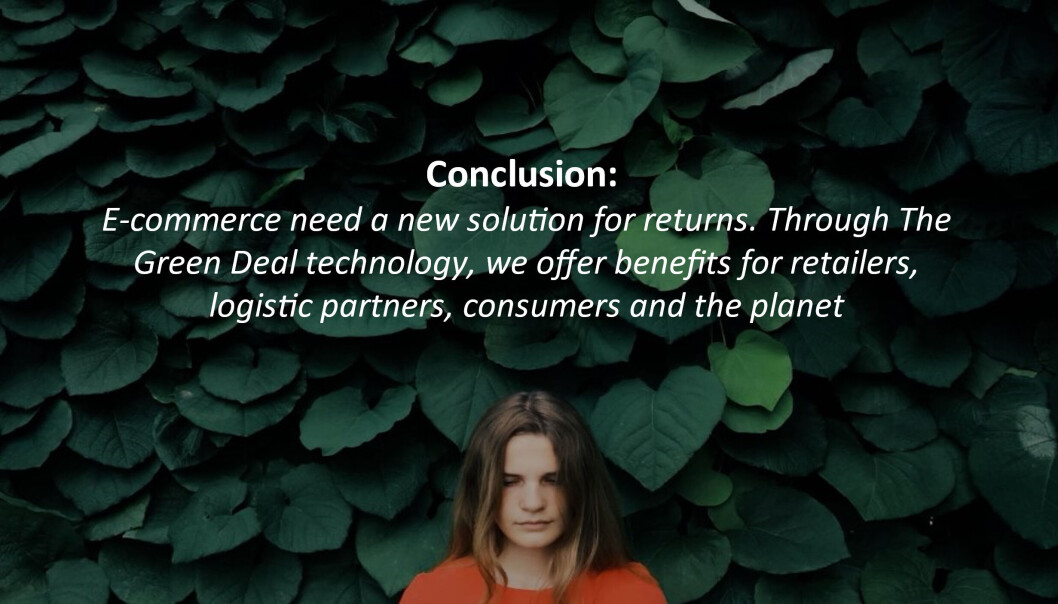 CTO | The Green Deal
Stillingen er ikke lenger aktiv.
Who are we and what do we do?
Did you know that up to 50% of all online purchases are returned? Free returns have become the norm in ecommerce combined with a steep increase in sales fueled by Covid. The most exposed part of the industry is the clothing industry. The clothing retail market in Nordics only is estimated to be 50 bnNOK in 2021. The returns are damaging for the environment and the industry`s finances.
The Green Deal was established with the ambition of creating an innovative solution for returns.
We believe that returns should be viewed not as a burden and as a logistical, economic and environmental challenge but as a resource – creating new revenue and reaching new customers for e-commerce companies and most importantly – reduce the environmental impact
The Green Deal is a scalable e-com platform for returns and a community focused on reducing the environmental impacts of ecommerce and focus on circular economy. The company is backed by solid investors and awarded Skattefunn Tax incentives 3 years in a row.

What we are looking for in a CTO
The CTO will play a central role in shaping the future of The Green Deal together with the board, the CEO, and the rest of the management team.
You will be responsible for the overall technology strategy, IT architecture, product development, system integration and the building of the tech team. Furthermore, you will engage with partners to scale and integrate our platform with their IT systems to enable a successful global commercialization.

Key responsibilities:
Build and develop the technology platform
Product responsible
Establish and lead development team
Link between marketing dev team

Key characteristics:
Experience from B2C SaaS, preferably e-commerce
Product manager/owner experience
Sales/market understanding/experience

Business- and commercial oriented mindset
ESG understanding and interest

Technologies being used:
You should have knowledge of, or be interested in, learning more about the following solutions. These are solutions we use today. How we build and develop for the company's growth will be your responsibility.
Personalization solutions such as Dynamic Yield, Adobe Sensei, Nosto or similar
Node, with knowledge of frameworks such as NextJS and React
Serverless and other orchestration solutions
Source code management systems, including CI / CD, GIT, etc. preferred Atlassian's portfolio
AWS Serverless / Cloudformation
Microservice-architecture
Lambda / SNS / IAM / Appsync / Dynamodb
Google API Services
Maven and Spring framework
Dynamic web
Commerce Tools
NextJS og React
Sanity CMS

What can we offer:
Become a part of an ambitious and dynamic startup on an important mission to reduce the environmental damages of returns and create new solutions for returns.
Become a part of shaping and executing on a strategy ensuring international growth
Grow your career with us as we grow our company.
Attractive compensation package including stock option incentives
Location: Oslo (preferred)
For questions please contact CEO and co founder Kjell Fjeldheim, 91 66 55 39 or [email protected]
Frist: Snarest mulig senest 20 nov
Søknad og CV sendes til [email protected]