LEDIG STILLING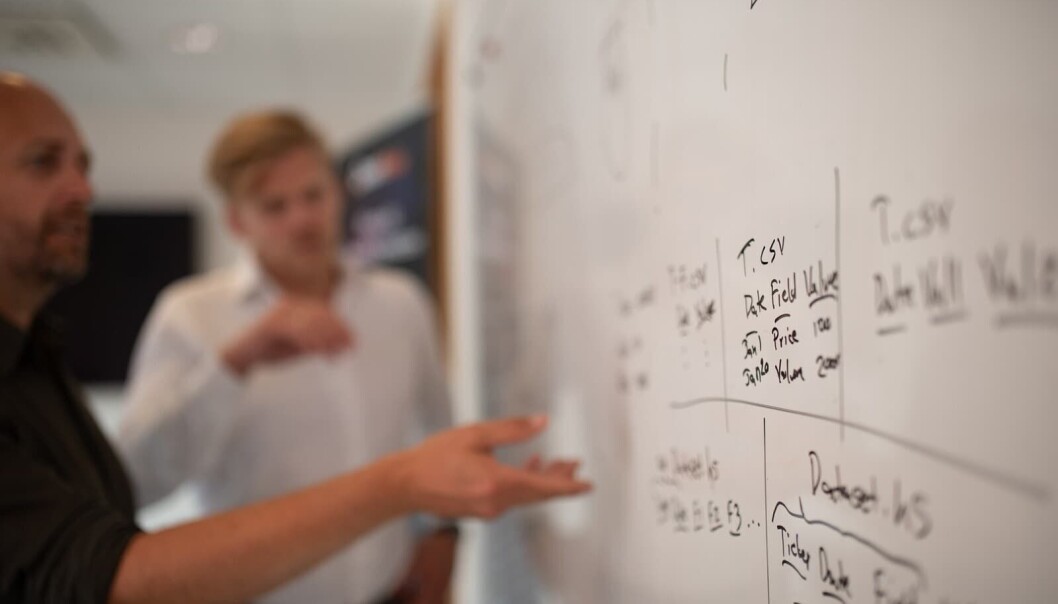 CTO - Quantfolio AS
Do you want to join one of Norway's most exciting FinTech companies?

Stillingen er ikke lenger aktiv.

Quantfolio delivers high-end investment and saving solutions to banks, wealth managers and financial institutions. In Quantfolio you will work with the biggest & brightest brands in the business, supporting them to conquer digitalisation and scalability, as well as increasing the quality & sustainability of services they deliver to their customers. Our technology will reach more than 3 million savers and investors before the summer, and we are expanding. This is an opportunity to join a FinTech scaleup with international growth ambitions and the skills to fulfil them. We are now looking for a range of ambitious talents that are motivated by joining our mission to transform investment advisory.
Join our great team on our journey to become a global FinTech provider. As CTO in Quantfolio you will be part of our management team and a key contributor to our international success. You will be responsible for all IT operations and development, making scalable solutions for the biggest brands in the business. This is a rare opportunity to be part of a company with proven records and ambitious growth plans.
Responsibilities
Work with the management team to set clear priorities and goals for infrastructure and development, balancing the long-term and immediate needs.
Oversee data security, management, and governance.
Manage vendor and technology partner relationships.
Manage resource allocation, goal/KPI setting, and performance metrics.
Define and operate the company's overall technology strategy to support business objectives.
Make infrastructure decisions, ensuring technical excellence, versatility, safety and soundness, resiliency and scalability in the architecting and engineering of product solutions, as well as managing all technical delivery.
Facilitate the development and implementation of disaster recovery and IT security failure plans.
Ensure tight collaboration across the company to drive strategic initiatives
Team leader for operations and development teams
Responsible for implementation and management of ISO27001, ISO27018, GDPR and client requirements regarding information security, business continuity, quality and data privacy.
Wanted Qualifications
Strong department leader with skills in strategic planning, goal setting, processes development, budgeting, and creating opportunities for professional development within technology teams.
Excellent communication, leadership, and strategic thinking abilities with a problem-solving aptitude.
Solid understanding of broad technology trends and the ability to align innovation with business goals.
Strong communication with ability to convey technical topics in easy-to-understand business terms and work collaboratively with cross-functional teams and external partners.
Strategic smarts, including the ability to identify new opportunities, drive clarity, create focus, and make tough decisions in complex and dynamic contexts.
Ability to track and identify new technologies to solve complex business issues.
Bachelor's degree in computer science, engineering, information systems or related field (master's degree preferred).
Previous experience as a CTO, director, or similar leadership role.
Prior experience as a senior engineering leader overseeing architecture and engineering for enterprise-wide technology platforms and leading SaaS technology platforms.
Broad knowledge of software engineering: languages, frameworks, techniques, and industry trends.
Experience leading complex, major changes and initiatives; demonstrated skills in change management on an organizational and interpersonal level; experience with integrating teams across multiple business units and managing a geographically dispersed workforce.
Experience designing and managing an effective IT governance framework across the spectrum of IT service delivery.
Experience with ISO27001 and GDPR
Excellent communication skills in English
About Quantfolio
Quantfolio AS is a fast growing Bergen-based FinTech software company delivering in-house developed roboadvisors, financial advisory solutions and research platforms to banks, family offices and wealth managers in Northern Europe. We empower our clients with our machine-driven investment components and modern design to make better decisions, automate processes and allow them to bring new innovative financial end-user products to the marked.
Our products range from full self-service robo advice frontend and backend, to comprehensive solutions for the financial advisors. Our team consist of passionate and highly skilled individuals, ranging from serial tech-entrepreneurs, traders, quants and senior developers with PhDs. Among our team, our clients and our partners you will be building the solutions for the future for banks and wealth managers. This is a great place for a person with a strong desire for professional development.
Quantfolio's backend is built with python, running on azure. We use continuous deployment with Azure DevOps. We are using agile development method.
Our HQ is based in Bergen with distributed development teams.
Working at Quantfolio
A chance to join one of Norway's most exciting and fastest growing FinTech companies backed by Sbanken and Storebrand
Joining a mission to put sustainability at the core of savings & investment advisory
Great working environment located centrally in Bergen, soon opening offices in Sweden and Amsterdam
International opportunities
Autonomy at the work place with the chance to influence both technical and business decisions
Equity ownership
Fixed salary + benefits
Working with the most acclaimed customers in the Nordics & Europe
Well-funded company
Eller kjenner du noen som ville passe enda bedre? Gi dem beskjed!