Ledig stilling: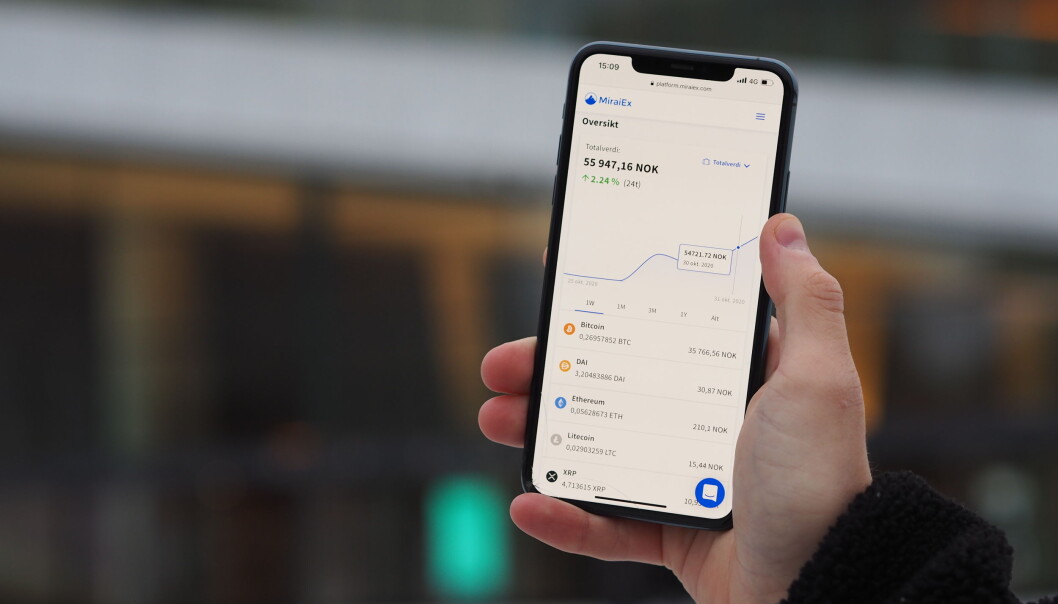 Customer Acquisition Manager | MiraiEx | Oslo or remote
Stillingen er ikke lenger aktiv
Are you a highly skilled Digital Marketer with a passion for technology? Does the idea of being the Customer Acquisition Manager for one of the fastest growing tech-companies in the Nordics trigger you?
Then we hope that you will join us in building the bridge between traditional finance and the finance of the future!
Welcome to MiraiEx - Who are we?
MiraiEx was founded in 2017 by a group of people with a background in programming, design, and business development. In a very short time, the company has become well established as Norway's largest cryptocurrency exchange. The background to this exciting growth was the lack of a platform where Norwegians could trade cryptocurrency safely and easily.
Not long ago, crypto trading was a complicated process where one had to provide sensitive information, wait for days, and pay fees to exchange dollars and euros to trade Bitcoin with foreign players. MiraiEX has now simplified the process so that you can become a customer in a few minutes with Vipps and BankID. MiraiEx is registered with Finanstilsynet as a service provider for the exchange and storage of virtual currency in Norway, with ambitions to expand further into the Nordic region and constantly introduce new services. Our mission is to make future savings and investments safe and accessible.
What can you expect from us?
At MiraiEx you have the opportunity to become part of a well-funded start-up that will continue to grow rapidly in the future. As Customer Acquisition Manager you will have a completely new and central role which will ensure that we continue to grow and succeed further. At MiraiEx, everyone has a high level of professional competence in their fields. We are not only invested in making MiraiEx as great as possible but also in our employees by sharing knowledge, challenging, inspiring, and supporting one another.
The team collaborates closely with each other to enable us to be creative together, find the best solutions, and ensure an inclusive environment where everyone has fun at work. We are proud to be Norway´s largest cryptocurrency exchange and we will soon be expanding to Sweden. If we are to be successful and continue our rapid growth, we need a skilled Customer Acquisition Manager on the team to take us to the next step.
We will make sure that you work with an inspiring group of people with lots of positive energy, drive and great ambitions. We strive to create a good, and engaging culture characterized by determination, unity, and a common desire to build the best platform for safe and easy crypto trading. You will join this exciting journey early and have great influence in this key role which will evolve as MiraiEx grows. We value facilitation for each individual to succeed and develop. You will of course have access to all the necessary equipment, flexibility in terms of workplace and time, and competitive conditions.
The Customer Acquisition Manager position
This is a new position and it is integral to the future success of the company internationally. MiraiEx will build a cross-functional Growth Team that will find the optimal growth recipe through data-driven experimentation. Your purpose as our Customer Acquisition Manager is to attract people to our platforms through paid marketing. You will cover both brand and performance marketing, though you might specialize in one of the areas later. You will be responsible for the optimization and evaluation of the marketing activities with a data-driven approach.
Therefore, we need an outstanding digital marketer who will take us to the next level by developing initiatives to enable customer growth both in the Norwegian market, in Sweden, and the other markets we are entering into in the future.
Key tasks and responsibilities
Develop and implement the marketing strategy and plans
Drive the collaboration with external agency and ensure quality through close follow-up and performance measurement
Responsibility for paid marketing (SEM, Social, display / programmatic / OLV)
Deeply understanding the customer and bring that knowledge to creating the marketing plans and content
Continuously test and measure results
Performance optimization - identify and implement necessary tools for better targeting / re-targeting
Pro-actively recommend corrective actions if necessary
Ensure that resources are used as efficiently as possible
Eventually progress to responsibility across countries
Who are we looking for?
We are looking for a person who is passionate about marketing and technology with a data-driven mindset. As the role will cover both Branding and Performance Marketing activities, we are looking for someone who has specialized in one of the two areas.
You have hands-on experience from a similar position with the desire and ability to think strategically and plan ahead. Naturally, you are intellectually curious, innovative, and eager to grow with the company. Of course, we do hope you have a heightened interest in cryptocurrency.
Other key areas of experience we are looking for
Relevant education is ideal but not a requirement
Excellent proven track record from similar positions
Strong knowledge and operational experience from digital marketing, either within brand or performance marketing or both
A creative hacker mindset with experience from a B2C startup /scaleup or agency could be a good fit for the role
Strong communication skills, also remote
Fluent in English both written and oral
It is not a must to be located in Norway, but we do prefer you to be located within the same time zone.
What can we offer?
There are lots of positives we can offer with this position and we wanted to highlight some of them for you:
You get to shape your area as one of the very first on the Growth Team
Join us early on our journey towards creating the financial products of the future
A central role in a fast-growing company, with great impact and opportunities for career and personal development
Work interdisciplinary with a cross-functional team
Awesome competent colleagues who are also a lot of fun
You will be the go-to specialist for Digital Marketing
Competitive salary and benefits
Office at Aker Brygge in Oslo
Next step
We want to make the process as smooth and easy for you as possible. Ultimately, it is our job to ensure you get as good insight into the company as possible. You can easily apply via the apply button. We do not require more than your CV or LinkedIn profile. If you would like further information prior to applying, please get in touch with our recruitment partner, Ann Hege Frøseth at AvantGarde Search. Ann Hege will happily send you a full prospect with more details about us and the position. [email protected]
Welcome to MiraiEx!

Apply now