Ledig stilling: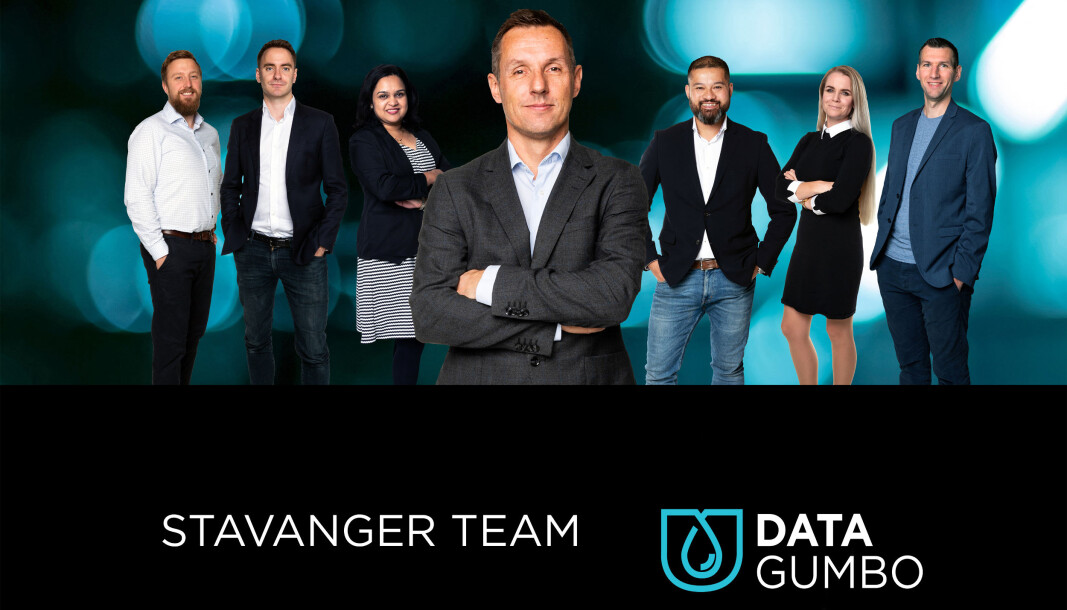 Data Gumbo is looking for a Sales Director & a Customer Success Manager
Data Gumbo is a technology company that provides GumboNet™ — a massively interconnected industrial smart contract network secured and powered by blockchain.
With integrated real-time capabilities that automate and execute smart contracts, GumboNet reduces contract leakage, frees up working capital, enables real-time cash and financial management and delivers provenance with unprecedented speed, accuracy, visibility and transparency.
Data Gumbo also provides GumboNet™ ESG, the automated and accurate sustainability measurement solution that ties a company's operational data to environmental, social and governance (ESG) standards reporting for industrial supply chains.
We are a fast-growing company looking to fill several positions on our Commercial Team in Stavanger.
Do you believe it is possible to revolutionize the way we do business?
Do you want to play a pivotal role in a the world's top industrial smart contract network being adopted by new industries?
Look no further – this could be your next great career move! We are looking to fill two key positions on our Commercial Team.
Sales Director and Customer Success Manager
About the Company
Data Gumbo was founded by serial entrepreneur and energy industry executive Andrew Bruce in 2016. The company started out as a data platform that connected to, collected, and standardized operational data to enable machine learning, AI and condition-based maintenance systems. The company transitioned to utilizing blockchain after spotting an opportunity to eliminate a sizable cost inefficiency between an oil supermajor and one of its suppliers.
Today, Data Gumbo is an award-winning technology company with customers around the world. We are a growing and passionate team focused on serving the industrial markets of oil & gas, construction, mining and manufacturing, among others as we continue to scale. The company has offices in Houston, Texas; Stavanger, Norway; and London, UK, with plans for further global expansion.
We were recognized as the Disruptive Innovator in the Forbes Energy Awards 2020 and named to CB Insights Blockchain 50, among other accolades. For more information, visit www.datagumbo.com or follow us on LinkedIn,Twitter and Facebook.
About the Stavanger office
The Data Gumbo Stavanger team works from our offices at Innovation Dock – a hub for tech companies with high ambitions. We are a small but growing team that is pioneering B2B smart contracts powered and secured by blockchain. Notably, we have received equity funding from Equinor Technology Ventures, the venture subsidiary of Equinor, Norway's leading energy operator.
Now the time is right to scale our Commercial Team in Stavanger, and we're looking for the best and brightest in sales and customer success to join us.
What´s in it for you?
We are offering the opportunity to represent game changing B2B technology as the company continues its momentum into additional industries. We work with some of the largest international and most recognized operators in the world, and our technology is here to stay.
As a fast-growing startup, we offer a market salary as well as a stock-option program as compensation.
You will also have the opportunity to occasionally travel to Houston, TX to work with your colleagues across the pond, as well as, attend relevant conferences and exhibitions both domestic and abroad.
The groundwork is laid for Data Gumbo to change the way the industrial world does business; now we must continue to scale the company and retain our position as the global leader in smart contracts powered and secured by blockchain. This is a chance to be a part of this adventure!
About the positions
Sales Director
As our locally based Sales Director, you will further expand Data Gumbo´s client list in Norway and broader Europe, and perhaps other parts of the world as well. As of now, we lead in the oil and gas industry, but have aggressive growth plans into new industries. Also, we will utilize your skills to continue relations and service to some of our highest profile clients and potential clients.
Our business model is subscription-based, and our goal is to continue to grow our user base on GumboNet, both with existing and new clients. You will help lead this endeavor. As we grow, you will be able to build a local team of other sales representatives.
We are looking for candidates with minimum five years of relevant experience and solid track record in sales and business development within the SaaS technology segment. Knowledge of ERP systems segment is helpful. Data Gumbo´s lead Commercial Management Team is located in Houston; we need a person who can communicate in English and Norwegian.
As a person, you have a high work capacity, are a flexible team player, are goal oriented and adventurous by nature.
Customer Success Manager
Data Gumbo's Customer Success Team engages our industrial customers to drive GumboNet adoption and demonstrate ongoing value. This critical role is responsible for onboarding new customers by engaging executive teams in the launch, driving ongoing adoption and managing renewals. You will work with the rest of the Data Gumbo organization to uncover new ways to help our customers achieve transactional transparency and certainty for their business on our network.
You will mainly focus on building, strengthening, and growing our key Norwegian relationships, with the opportunity to expand to others as they come onto the network. The Customer Success Manager will be the customer´s point of contact in the first foreseeable timeframe. Your daily activities will consist of onboarding new users of GumboNet, providing service for users, facilitate their success, and make sure of all the users get maximum value for their investment.
The ideal candidate has relevant customer experience dealing with large clients in the world of SaaS. Also, the person likes to work in both commercial and the technical aspects of client care. Due to our international presence and collaboration with our Houston office, you need to be fluent in English as well as Norwegian.
As a person you are service-minded, and a multi-tasker who is organized, analytical and proactive.
About the Process
Together we are building a robust, innovative, and exciting company with vast opportunities for both personal and career growth of our employees. Now is the time to take the leap to Data Gumbo!
Do our words inspire you? Please let our recruiting partner Ingunn Søyland at AvantGarde Search know. Press the "Søk her" button and to reach out to her.
Can´t wait to hear from you!