Ledig stilling: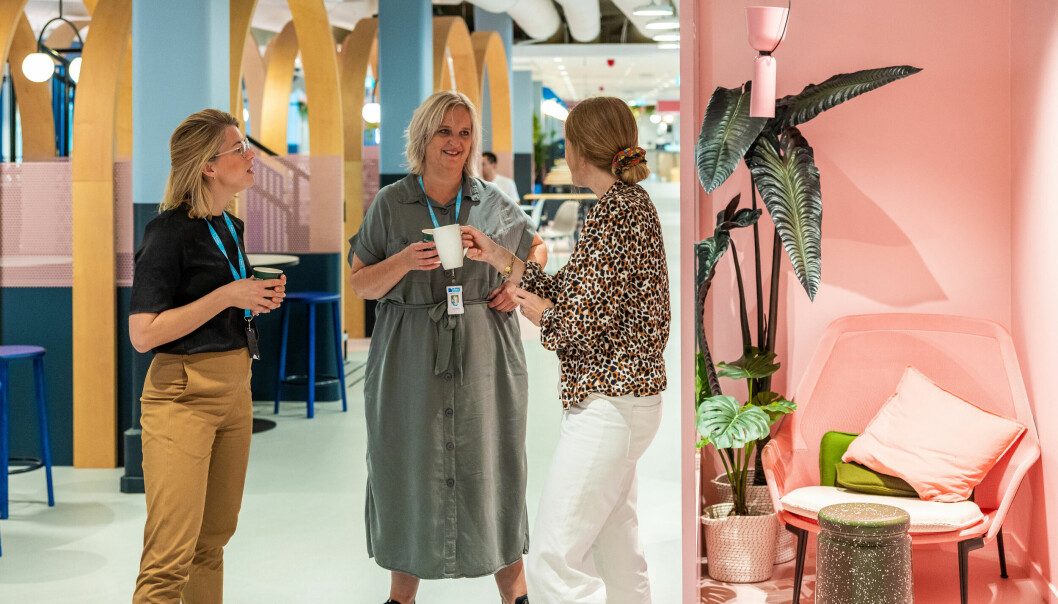 Engineering Director for Infrastructure and Operations | FINN.no
Would you like to help lead the technology department that maintains and develops our marketplace into the innovative, sustainable and user-friendly platform it is today - and should be in the future?

Stillingen er ikke lenger aktiv.
Are you FINN's new Engineering Director for Infrastructure and Operations?
Would you like to help lead the technology department that maintains and develops our marketplace into the innovative, sustainable and user-friendly platform it is today - and should be in the future?
Well, we have the perfect job for you!
We are looking for a new technical leader in FINN to lead our Infrastructure and Operations department. Someone who can combine personal knowledge and experience in regard to infrastructure, with the skills needed to lead, manage and challenge a unit of experienced and competent tech-professionals.
Why FINN?
The technological foundations in FINN are unique. An example of this is our application stack, which is microservices based and has been running on Kubernetes for the last 6 years. Last year we migrated all of our 800 production applications, 145 databases in 30 database clusters, Kafka, our search stack and more from an on-prem data center to Google Cloud during one night. Pretty cool, right? We are very proud of this achievement, and you can read about it here: https://medium.com/finn-no
Drive is one of our core values, and we always aim to improve. So what is next? FINN is focused on utilizing the cloud by way of APIs. We do not click on GUIs. We build and operate infrastructure using least privilege using a GitOps model by utilizing Terraform and Atlantis. "Cloud native" for us goes beyond utilizing cloud services, we combine technologically advanced cloud platform services and the best freely available technologies to implement what the company needs to advance our technology stack.
What you will be up to
Your main mission as Engineering Director will be to lead our infrastructure and operations department of two engineering managers and 11 highly competent infrastructure developers. Your role is to proactively advance the company IT infrastructure to always be ready for new company ambitions.
You will be a part of the FINN Technology management team, and report to the CTO, and you will be a very important link between the infrastructure department and the rest of FINN. This is in other words a two-way job; You have to learn about and understand the business strategy of FINN and be able to convey it to your people in an understandable and meaningful way. At the same time, you need to represent the infrastructure perspective to the rest of the organization.
Sounds tough? Don't worry - we can promise you that in FINN we have the best people - and we are great at collaborating!
Who are you?
You are someone who can create a vision for where we need to go and a plan for how to get there - as a team. Your role will be to lead, manage and inspire the infrastructure department to deliver on and facilitate processes to enhance our cloud-native roadmap. This means being supportive of your people and respecting their ideas, but also knowing how-to guide and challenge them when necessary.
Your team is capable of debugging how CPU jiffies affect a Kubernetes pod workload. Does this mean that you have to understand why red-black trees and heaps are smart things when scheduling huge amounts of processes? Not necessarily, but you need to have a level of technical knowledge and understanding that enables you to engage in meaningful discussions, and to understand the importance and challenges of the team's work.
Last, but not least - it's essential that you enjoy working in a diverse work environment. Tolerance and spirit are among FINNs core values, and it is important that these values are important to and resonate with you.
Background/Skills
Academic Degree within Computer Science, or similar
Demonstrated large scale infrastructure design and implementation experience
Coding experience
Solid experience with building, running and debugging large and complex systems
Solid and proven understanding of business
Full professional proficiency in English
Experience with managing people
Bonus * Manager of managers experience * Experience with working in large organisations with many development teams
More about FINN tech and the way we work
One of FINN's absolute strengths is that we have a strong inhouse community with around 180 developers. These are divided into 30 teams and groups of teams.
Developers in FINN have the competitive advantage of being able to quickly launch new products, redesign their portfolio, effortlessly release to production, scale deployments up and down, watch and search logs, make dashboards, etc.
The infrastructure department, which you'll be leading, has a mission to improve the developer experience further. You will therefore need to understand the needs of the development organization and match these with the possibilities provided by our infrastructure platform.
We probably take some things for granted in FINN, but we're proud of the fact that we actually get to do what a lot of other companies only talk about doing, like:
Be a 100% cloud-based company
Running all applications in Kubernetes
To effortlessly release 200 application changes to production every day
Having thousands of application servicing instances communicating near real time over a pub sub bus
"Going microservices"
Hello there, we are your FINN Technology Management Team colleagues!
We (Helge, Bente, Halvor, Kjersti, Sebastian) are IT leaders with various experiences. We have different areas of responsibility but often work together. We are passionate about creating a strong Tech environment in the company, and to contribute to FINN's success through technology. As a group, we love a good discussion, but always with objectivity and good intentions as the foundation.
We have backgrounds as developers, team leads and architects. We've headed tech teams, products, projects and services. We've made tons of mistakes in different positions, and we use this experience to motivate our tech organisation to move fast towards our goals.
We've got many years in our collective FINN belt, but we've also built stuff for Telenor, EnTur and Nordea – to mention a few.
Hi, I am your new manager!
My name is Nicolai and I have been working in FINN for 13 years. I started out as a developer, have had different team and department leads roles over the years and have been the CTO of FINN since 2016.
I am a huge believer in the power of collaboration and autonomous teams. I am convinced that diverse groups of people deliver better results. I love to discuss big and complex challenges, be they technical or organizational, on a whiteboard (or in Miro these days). I naturally lean towards logic and rationality in my leadership, but I truly appreciate the impact engagement and passion can have on results. I try to constantly challenge myself to find ways of fostering this.
My career in FINN is getting pretty long, but I always find new challenges and goals that motivate me. Right now I am really looking forward to growing the Tech department with another 50 people, to make sure that FINN can deliver the next generation of marketplaces.
Want to get a feel for the FINN vibe?
Read more about our culture and what we can offer on our careers page.
In FINN.no we believe sharing is caring, so check out presentations we have held on tech conferences like JavaZone and we share open-source code in Github.
You can also find us on social media: Instagram, Twitter, Facebook & LinkedIn and read more on our Tech Blog.

Kontaktperson: Nicolai Høge

Vi tilbyr:
Varierte og spennende arbeidsoppgaver

Dyktige kollegaer og et hyggelig arbeidsmiljø

Konkurransedyktige vilkår

Gode muligheter for kompetanseutvikling

Avis - Aftenposten hjem på døra og/eller digitalt

Fleksibel arbeidstid

Rabattavtaler gjennom FINN og Schibsted

Hybrid arbeids hverdag
I 2021 ble FINN 21 år. På den tiden har nesten alle i Norge prøvd tjenesten vår. Hvert år tilbringer hver nordmann i snitt 30 timer på FINN, og til sammen surfer brukerne våre gjennom mer enn 15 milliarder sider. Snakk om engasjert gjeng! En jobb i FINN sikrer deg mange gode historier på fest. Det er en merkevare 96 % av Norges befolkningen kjenner til, og omdømmet vårt er et av Norges sterkeste (nesten til å bli svett av å skulle forvalte). I FINN går vi på jobb hver dag for å hjelpe folk til å ta smarte valg for seg selv og samfunnet.
FINN eies av Schibsted og våre mer enn 400 trivelige kolleger holder til i Grensen i Oslo. For tiden jobber nesten alle våre ansatte fra hjemmekontor. Vi er stolte av at FINN har blitt kåret til en av Norges beste arbeidsplasser flere år på rad i kåringen Great Place to Work. De som kjenner oss vet at vi har et sett med verdier som preger oss i alt vi gjør: SULT, PRESISJON, TAKHØYDE og HUMØR.
FINN UX er på Instagram https://www.instagram.com/finnuxdesign/
For å få et nærmere innblikk i hva vi driver med, har vi delt tech lunch og UX kveld det siste året.
Tech lunch: How did we manage to get everyone onboard to migrate to cloud?UX kveld mai 2021: Brukerreisen har blitt voksen