Ledig stilling: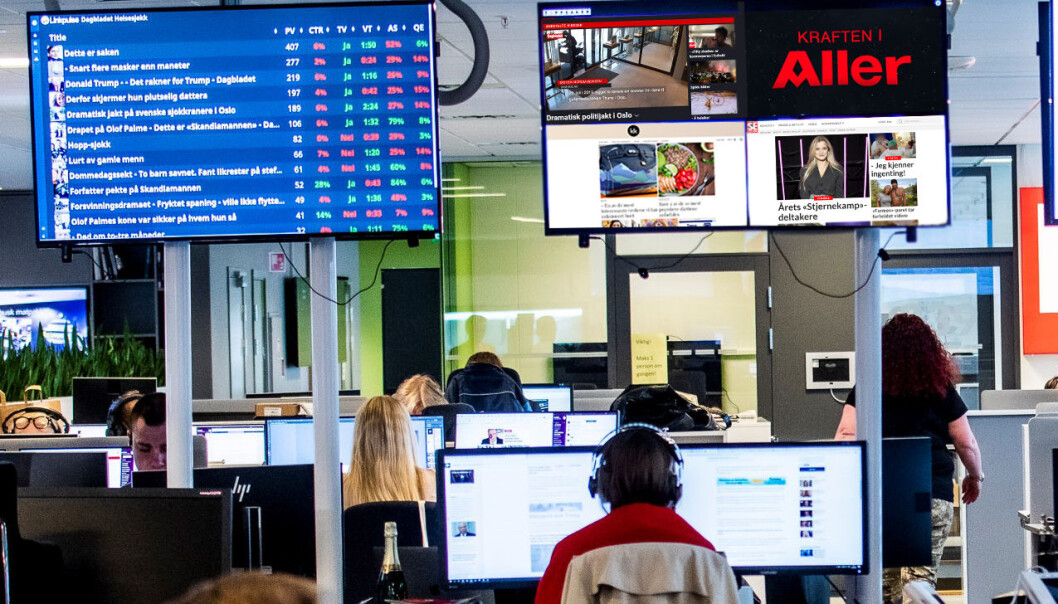 Front-end developers | Aller Media AS | OSLO
Do you want to join Aller media on the journey to become the best media company in Norway? Do you want to help build the news experience of the future?
Are you interested in news, media, and storytelling? Add cool animation and living pages to that equation and you might just be Aller Media`s new Front-end developer!
"We are looking for someone with a unique way of translating editorial content to visual experiences. Someone who can tie in dynamic animations to editorial content, giving the readers a sense of immersion."
About Aller Media
Aller Media is one of the largest media conglomerates in Norway. The company has a wide range of products, from breaking news with Dagbladet as the frontrunner to typical magazine products like Se og Hør and KK. In addition, Aller Media has a strong position with several leading brands in marketing services. Aller Media has been very successful in transforming its business, and many of our brands hold leading positions digitally. We have around 600 employees in Norway and our turnover is approximately 1,8 billion NOK.
The position of Front-end Developer
At Aller Media, you will have fantastic opportunities to experiment and learn. We focus on quality products and we want you as a developer to gain ownership and pride in what you create.
This position is part of Aller's media product team. In this role, you will be involved in creating solutions and helping editors to create engaging stories digitally. There is no typical work week when you work in one of Norway's largest media houses. But we can guarantee lots of action and a high-paced environment. You will be on the product team, but also work directly with the editors and journalists, working with storytelling, creating visuals for special stories and articles, election coverage, and real-time graphics for elections.
Finally, you will have a lot of room for shaping your work and doing what you love the most.
You will be working with technologies like HTML/CSS/Javascript, React, Svelte and animation-frameworks (d3.js and the likes)
Who are we looking for?
You have the technical knowledge and ability to produce and go beyond extraordinary to create stories digitally, with engaging and interesting elements, expanding editors' storytelling outside of only words.
Technical qualifications and interests
You have worked with Front-end Development for 2+ years. You are curious and creative; this position is perfect for those who prefer not being told what to do. You love creating solutions that will convey and reach a lot of people and you stay up to date on current frameworks.
Experience with HTML/CSS
Experience with JavaScript
Fluent written and oral communication skills in Norwegian and English
Experience or interest in React or Svelte
Experience or interest in animations, graphics, frameworks such as D3.js or similar technologies
What can we offer you?
Autonomy
An enthusiastic and creative team
Working on tasks more on the «new side» than on the platform side. In other words; more focus on storytelling.
Manage your own work
Cabin for a week in the winter for Hackathons
Cabin trips in the summer for Hackathons
Few places that have the reach that Aller Media does
The ability from the tech-side to build up features and do it your way
A central role in a fast-growing company, with great impact and opportunities for career and personal development.
Do you want to join Aller media on this exciting journey to be the best media company in Norway?
If the answer is yes, please feel free to apply via the application link. At this stage, we only require your CV or link to your detailed LinkedIn profile.
Alternatively, please feel free to get in touch with our recruitment partner, Fathia Omer, in AvantGarde Search. Fathia has a detailed prospect she will happily send to you. ([email protected] / +47 40 05 37 96 ).
Welcome to Aller Media and the position of Developer