Ledig stilling: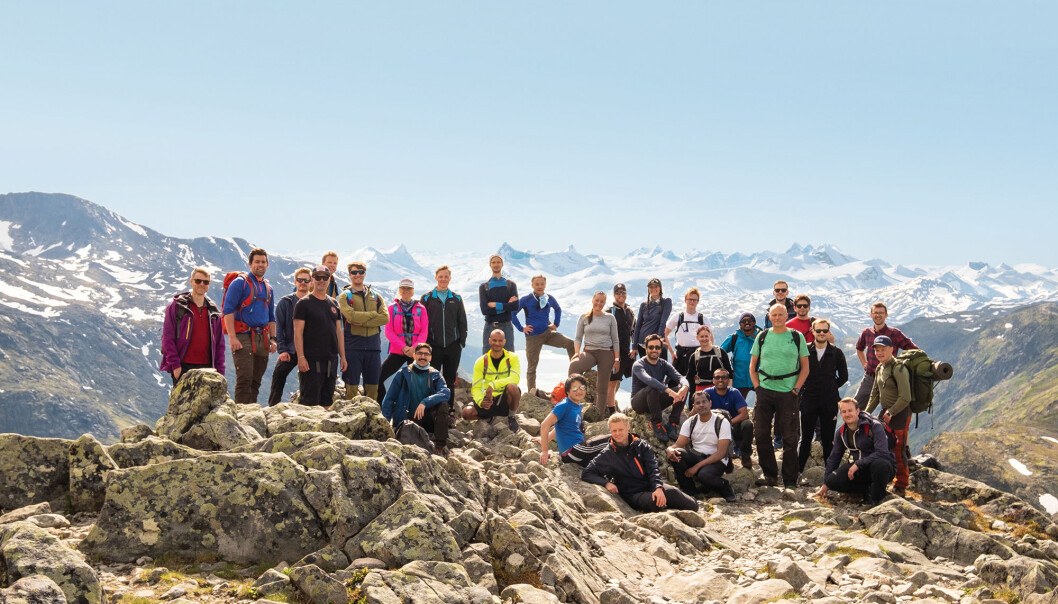 Global Partner Marketing Manager
Stillingen er ikke lenger aktiv.

Come join Airthings, the holder of The Best Innovation award from TIME Magazine and multiple CES Innovation Awards.
Imagine working with something you are passionate about and at the same time being integral in empowering the world to breath better.
Imagine working for a company with international focus and where technology and marketing are as important as one another.
Imagine taking on a brand new position within the company and making it your own.Imagine working for a company that encourages their staff to dare and to love.
We would love for you to join us !
"Airthings is on a mission to ensure people around the world take control of their air quality through simple, sustainable and accessible technology solutions – making radon and air quality solutions an essential and universal element for every building or home."
We will
1. Always strive to create valuable and loveable experiences
2. Provide scalable and accessible technology solutions to serve people and the planet
3. Continuously educate the world on how air effects our lives
4. Build an agile international organisation with great people that care about making a difference
A welcome from our Chief Marketing Officer, Lauren Pedersen
Hi there! Thanks for taking the time to check out the Global Partner Marketing Manager role. We are excited to be growing the Airthings team and we see this as a crucial role to help us scale in the years to come. We are an enthusiastic, diverse, international marketing team. Individually, we are experts in our fields and together we are one amazing team. We are focused on building an incredible global brand that is known and loved around the world. We truly live the Airthings values - we DARE to try new things, we LOVE our team and our brand and we FOCUS on reaching our goals.
We...
are focused on both emotions and data
believe that marketing is an art and a science
are not scared of trying and failing
work hard and play hard
If this sounds like you, we hope you will come by to meet us soon!
You will
We're looking for a Global Partner Marketing Manager to join our amazing team at Airthings and bring our products and solutions to consumers and businesses through leading partners and retailers around the world. You will be responsible for the strategy and execution of retail and partner marketing programs globally. You will be a lead for the global partner marketing group in the Airthings marketing team. You will collaborate with Sales (both B2B and B2C), represent the company in sales meetings and find new ways to get our products to market through strong collaboration with partners.
Key responsibilities:
Develop a retail and co-marketing strategy and execution plan with partners and retailers globally to reach our sales goal
Driving business through our B2B partners
Manage the partner marketing budget (B2B and B2C)
Build a world-class team of regional partner marketing experts
Manage the US and EU Channel Marketing Managers and hire into the team
Optimize online and offline retail presence for better conversion
Manage all online and offline marketing materials and activities that support our partner and retail channels
Manage product launches with partners: creation/adaptation of all print and digital marketing assets, point of purchase materials, product merchandise displays, packaging, product trainings, social media campaigns, email marketing etc.
Reporting retail and partner marketing programs.
Work with the sales and marketing teams to prepare promotional activities and maintain a calendar of events.
Work with the sales team to expand into new markets through partners and retailers
You get:
You will be joining a company really going places and a company with huge international expansion plans. In 2019 we won the Time Magazine Best Invention Award and we have a great international environment with focus on diversity and inclusion. Out of our ca.90 employees we (so far) have 31 different nationalities. And we are open for more 😊
Although we are a world leader in what we do, we are small enough to allow everyone to have a say and make an impact. You will get to work with a group of people with high competence within various marketing fields and a group of people that are fun, caring and a bit "crazy".
From the position point of view you will get to build the global partner marketing strategy and team from scratch, and you will work with some of the world's leading retailers and business partners.
You will get to build up a global team and somewhat unique; work on both B2C and B2B business. Finally, you will be hugely influential in getting our brand and products into the hands of millions of customers over the years to come.
Some other positives to mention:
Focus on creating a fun environment with many social happenings
Giving all our staff the opportunity to develop and really feel an integral part of our successes
You get to work with both business and consumer markets
Excellent salary and benefits including stock options
We highly value work life balance
Flexible work hours
100% maternity leave and 100% sick leave
KPI Bonus
Stock Options
Training and conferences abroad
City Centre Location and next to the Palace park
Friday lunch and get together with the best sweets in town
One of the best canteens in Oslo, well at least we think so!
You are
A team player and a great communicator who loves to work across teams. You are intellectually curious, innovative and eager to grow with the company. You have strong experience building a brand and distribution through retail and partner channels.
B2C and B2B marketing experience (5 years+)
Experience working on co-marketing/retail marketing channels, ideally in North America and the EU
Experience working with in-store Point of Sale (POS), packaging and e-commerce
A great external and internal communicator who excels in working cross teams
Fluent in English, other languages a definite plus
Budget minded, and has demonstrated ability in understanding revenue/sales goals
Experience with CRM and retail software systems
BA/MA in related field
What`s next?
Hopefully you have been inspired to apply and you can apply directly via the apply button. If you would like more info prior to applying, simply get in touch with our recruitment partner, Fathia Omer, in AvantGarde Search. Fathia has a full prospect she can forward to you. [email protected] Phone: +47 40053796
We hope to hear from you and welcome to Airthings, where we DARE, LOVE and FOCUS