Ledig stilling: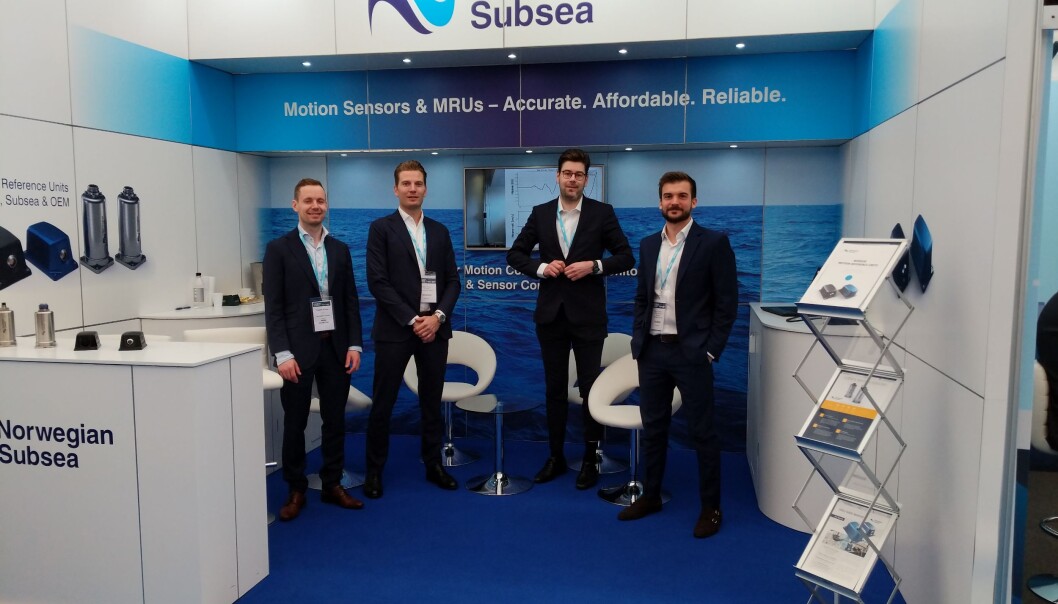 Sales Manager | Norwegian Subsea | Oslo
Stillingen er ikke lenger aktiv!
Are you passionate about sales and technology? Do you have a background in offshore wind, maritime or other energy related industries? Would you like to be an integral part of the success of a Norwegian tech-company with huge international growth-plans?
Then we would very much like to hear from you. Welcome to Norwegian Subsea at Skøyen in Oslo.
Who are we?
Norwegian Subsea delivers high performance Motion Reference Units (MRU) and motion sensors for marine, subsea and land use. Our products combine MEMS sensor technology and sensor fusion algorithms to give accurate and reliable motion, velocity and acceleration measurements for control and monitoring applications.
Today, we are a fast-growing supplier of motion sensors to customers worldwide. We deliver motion sensors to satisfied customers in industries as diverse as ship motion monitoring, hydrography, green energy and subsea oil production. "Our product is different from the competition both because of low cost, size and energy consumption. In addition, we strive to give our customers and close and thorough follow-up both during pre-boarding, on-boarding and after-sales"
Exciting times ahead
Our mission is to create better and more affordable motion sensors for users in marine, land and subsea industries. We do this by combining advanced sensor fusion algorithms with high quality hardware and the latest MEMS sensors. Our sensors are thoroughly put to test in state-of-the-art labs as well as in the field. We have experienced significant growth in terms of sales and potential clients during the last couple of years and we are on track to deliver a turnover of 10-12 million NOK during 2021, with the aim of reaching 25 million NOK in 2022. At present, we see great interest in our products in locations such as Norway and Holland, but also within other European countries, and not at least in the US. Last, but not least; we are putting significant focus on the renewable industry, in particular offshore wind.
The position of Sales Manager
In this position you will have responsibility for increasing sales of Norwegian Subsea`s products and acquiring new and recurring customers. You will sell to both existing and new market segments and countries and maintain the relationships with new and existing customers.
In addition to the sales and account management aspects of this position, you will also have the opportunity to assist with some marketing activities. This can include, but not limited to, preparing and organizing exhibitions such as Oceanology, Ocean Business and more, as well as managing marketing material and ad campaigns.
Key tasks and responsibilities:
New sales.
Market research and mapping.
Build customer relationships.
Account management.
Drive and update CRM system.
Technical sales / support in form of recommending products.
Attend meetings together with the technical team.
Support customers with technical documentations.
Attend exhibitions and events. In the long-term you will get the opportunity to build a global sales team.
What can we offer?
First of all, we hope that you find our journey ahead as exciting as we do. We have spent a large amount of finance on developing our sensors and you will now be an integral part of taking our products out globally. Your work and your impact will be central to the company`s future success and growth.
We can offer:
Excellent salary and benefits
Competitive bonus
Offices central to public transport at Skøyen
Opportunity to impact the direction of the company
Good financial backing with break-even target in 2020
Already secured global and well-known customers
Flexible work hours
Working with new technology Experience of growing a young tech company
Who are we looking for?
You have good experience (4 years +) from sales of technical products and solutions, and you are someone who is used to both "hunting" as well as account management. Ideally you have experience from one of the following areas: Subsea, Renewable Energy or Marine and we would welcome experience from selling both here in Norway and internationally. Additionally, any experience from, or knowledge in, modern marketing would be a great advantage.
Preferably, you have knowledge about motion sensors, industrial electronics and communication, and you're interested in learning about new technologies. You can work independently, and you're able to understand the customer's need for motion sensors and advise on the best solution from our product range.
The ideal candidate has experience in sales of motion sensors, or navigation equipment and has a strong interest in new technology. But experience from sales of other industrial electronics products is valuable as well.
You have a broad network within the maritime/subsea or renewable sector and knows the decision makers for procurement in this field.
Next step
First of all, thank you for interest in this position. We sincerely appreciate your time. If you are inspired to take it to the next step, please feel free to apply via the apply button. Alternatively, please feel free to get in touch with our recruitment partner, AvantGarde Search, who happily send you a detailed prospect about the position, Norwegian Subsea and the process.
Erik Falk Hansen |+47 40 43 54 93 | [email protected]
Thank you for reading and welcome to Norwegian Subsea