Ledig stilling: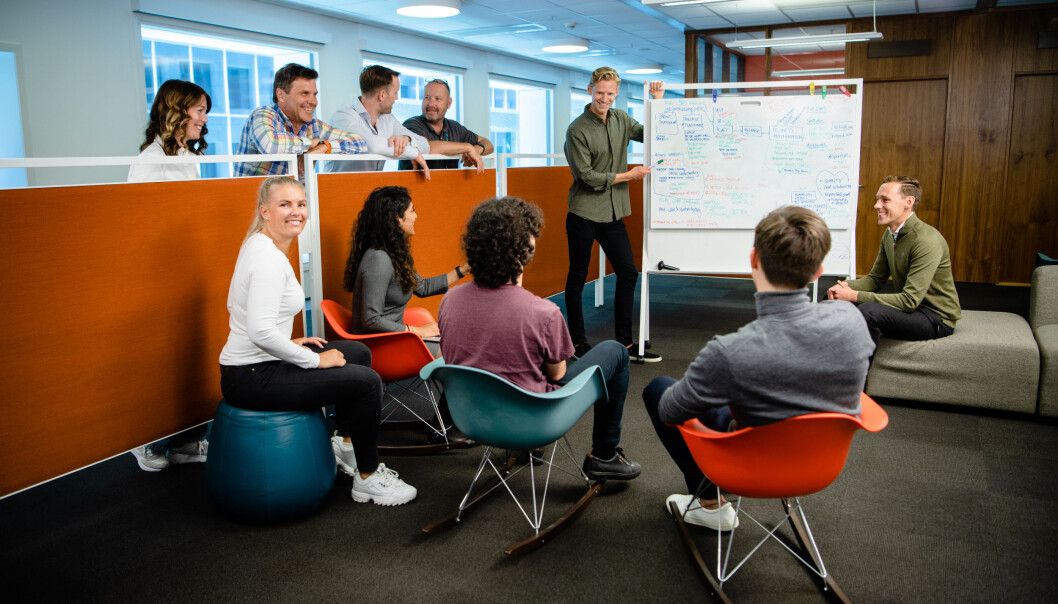 Senior Product Manager - Open Banking
Stillingen er ikke lenger aktiv.
Your mission in Open Banking:
To build API products that enable our customers to create exceptional user experiences and services.
Who we are:
DNB Open Banking is a rapidly growing technology team in DNB that is responsible for building API products and capabilities that help DNB stay compliant as well as generate new value through APIs that go beyond compliance. We do this through developer.dnb.no, which allows our customers to get access to DNB's data and services through APIs.
We pride ourselves on being a diverse and inclusive team. Consisting of 10 different nationalities, software engineers, product managers and business developers, our team is both international and interdisciplinary. We value good teamwork, and care deeply about building an inclusive culture in which everyone can succeed. Being a part of Open Banking will give you the opportunity to enable and drive innovation.
What you will do:
In this position, you will be joining a cross-functional team consisting of product managers and engineers that are working closely together to fulfil our ambition.
You will own and drive the work needed to launch an API product currently in the pipeline or you will conceptualize and build a new API product to deliver on business value: understanding what there is demand for and what problems are worth solving.
You will be working closely with developers and other members in your team to ensure we are building the right thing but also building the thing right.
You will communicate with key stakeholders to give status updates and timelines for critical deliveries.
You will be the expert of the product and its usage, responsible for prioritization, roadmap development, the product definition and the overall strategic direction of the product and its place in the bigger picture.
What you get:
Challenging tasks that allow you to grow professionally, competitive terms, a strong engineering culture, and good career opportunities. We offer good pension conditions, employee terms on DNBs products, insurance schemes, access to resorts in Norway and abroad, sports, cultural and other activities plus a wide range of discount schemes. In addition, knowledge and experiences are our most important assets, so you will have the opportunity to participate in conferences and courses, both to build your own competency and to represent DNB externally. We know the value of good work-life balance and have flexible working hours, extra days off and reduced working hours from May to August (summer time!).
What we are looking for in a Senior Product Manager:
We are looking for someone with high agency, a get-it-done attitude, breaking down barriers and someone that deeply cares about the end-user experience.
This means that you are someone who is:
Visionary, grasping the big picture while still being able to work on minute details, breaking down complex problems into smaller iterations. You have leadership skills, without being "the boss" and are able to rally your team around a plan. You have great communication skills and know how to use these skills to communicate strategy, plans and learnings across a large organization, as well as with external partners, developers, and customers. You are hands-on with product development: You can translate complicated and abstract ideas into understandable concepts but also take those concepts and build products out of them together with your product team.
As a product manager, you understand the role of privacy, security and risk in building products compliant with the current laws and regulations. You tackle complexity, uncertainty, and pressure situations well, know how to make hard decisions and prioritize to achieve the best outcome. You are a team player and care deeply about the success of your product but also your colleagues and the wider objectives in the organization.

Your background and experience:
4+ years of working as a product manager within a cross-functional team.
You have experience in building and launching APIs, software products, or complex systems with a strong focus on privacy, security and protection of customers' data.
You have experience with agile methodologies for software development.
Excellent communications skills – oral and written. Our team's working language is English.
Bonus: You have relevant experience or knowledge about Open Banking regulations.
Relevant higher education. Any gaps in education can be filled by relevant experience.
Don't exactly fit the description above, but still feel you got what it takes? Get in touch. We are looking for diversity and awesome people, so no stone is left unturned if you have the correct mindset.
We interview candidates continuously, so don't wait until the last minute to apply.
Application deadline: 6th April, 2021
For more information contact: Head of Product Management in Open Banking, Karan Shah /46384942
Vi trenger dyktige og motiverte medarbeidere for å møte kundens behov og for å nå våre mål. Vårt oppdrag «Vi er her. For at du skal være i forkant.» er retningsgivende for oss i DNB på alle nivåer. For å dekke konsernets behov, trenger vi medarbeidere med ulik bakgrunn og kompetanse. Trives du med å sette kunden i fokus, og identifiserer du deg i tillegg med verdiene våre: nysgjerrig, modig og ansvarlig, kan du passe godt inn hos oss.
Vi gjennomfører bakgrunnssjekk av søkere for å verifisere opplysninger som fremgår av CV og annen dokumentasjon. Denne bakgrunnssjekken blir gjennomført av Semac og gjennomføres ikke uten samtykke fra søkeren, og aktuelle søkere vil motta nærmere informasjon om dette.
For stillinger som krever autorisasjon og/eller godkjenning av egnethet, forutsettes politiattest fremlagt.