LEDIG STILLING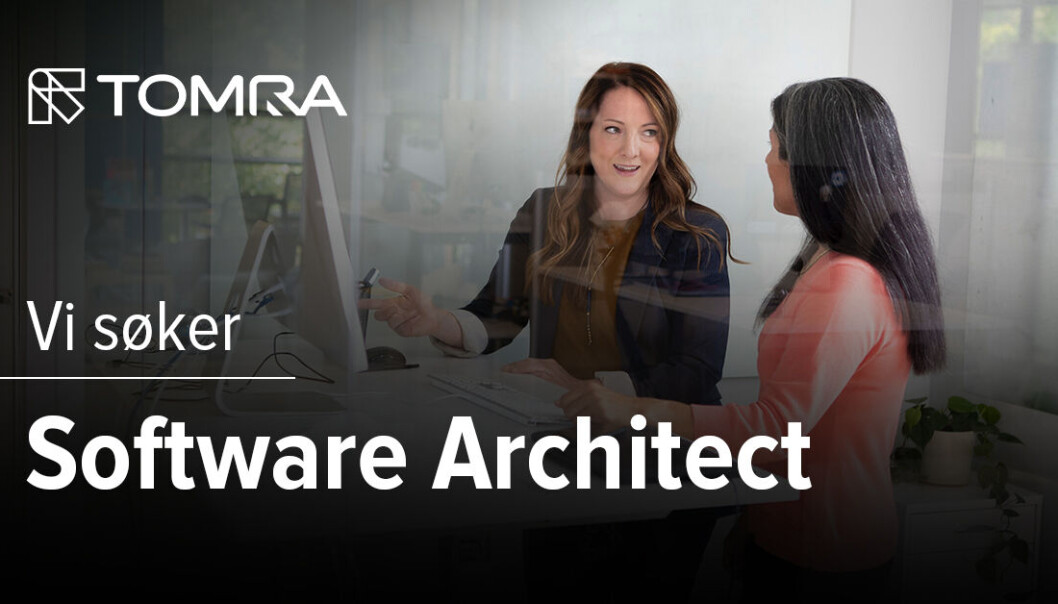 Senior Software Architect – TOMRA Circular Economy
Do you want to contribute to a more sustainable future by reducing plastic littering and greenhouse gas emissions? Join the Resource Revolution with TOMRA!

TOMRA is a world-leading technology company implementing circular economy solutions. We strive to reduce society's reliance on virgin resources by ensuring packaging material and other valuable commodities are reused and continually recycled in closed loop.
We need more resource revolutionaries to lead development and set new industry standards!
Senior Software Architect – TOMRA Circular Economy
A revolution in packaging design and use is required for a more sustainable future, both from a littering and a climate change perspective. As a contribution to the circular economy, TOMRA envisions a novel solution for reusable food packaging to be used by restaurants and cafés which offer takeaway and delivery services.
You can now be on the team to solve this demanding challenge. TOMRA is searching for a Senior Software Architect to create the digital framework for several new reuse applications, well beyond the company's current offerings. The solution will leverage some of TOMRA's existing software, but we expect that most of what is needed must be purpose-built. As this is a novel market with no proven solutions, we will take a leading role in setting new industry standards to the best for future generations.


Key responsibilities:
Design a software architecture for integration of automated collection points, back-office functions, clearing services towards consumers and other reuse system providers, data sharing with other value chain contributors, and consumer communication. The system design will include business logics, presentation layer and data storage.

Identify, conceptualize, and specify necessary digital products and services.

Understand and define customer journeys and use cases for all stakeholders (e.g. restaurants, consumers, logistics- and sanitization partners).

Work with other TOMRA IT professionals to identify required new functionality.

Create functional specifications for developers.

Evaluate complexity and prioritize solutions as a part of an iterative development framework.

Guide implementation through participation in development activities.

Ensure functional requirements are met and intuitive user interfaces are created.
Personal qualifications & skills
B.Sc. or M.Sc., in relevant field.

5-10 years of relevant professional experience.

Experience from development of mobile solutions, internet applications, cloud hosting and system integration.

Technologist with a business oriented and commercial mindset.

Excellent communication and collaboration skills.

Ability to influence, motivate and inspire others.

Is structured and analytical.

Innovative and ready to make truly significant change.
TOMRA offers:
Professional challenges within a growing, market-leading technology company.

Convenient location in Asker – close to Oslo, Drammen and Sandvika.

Excellent facilities with modern gym, free parking and electric car charging, and our own healthy and varied lunch buffet.

Opportunities for professional development and competence building through participation in relevant training courses and seminars.

Competitive compensation package.

Hybrid Working arrangements.
Location: Workplace is Asker, Norway, position comes with some international travel. Please send your CV and motivation letter in English or Norwegian.
For further information, please contact Partner in Capus,
Kristian Lennertzen, phone +47 91616073/[email protected] or
Rekrutteringsassistent Emilie Andersen, phone +47 45433397/[email protected].