Ledig stilling: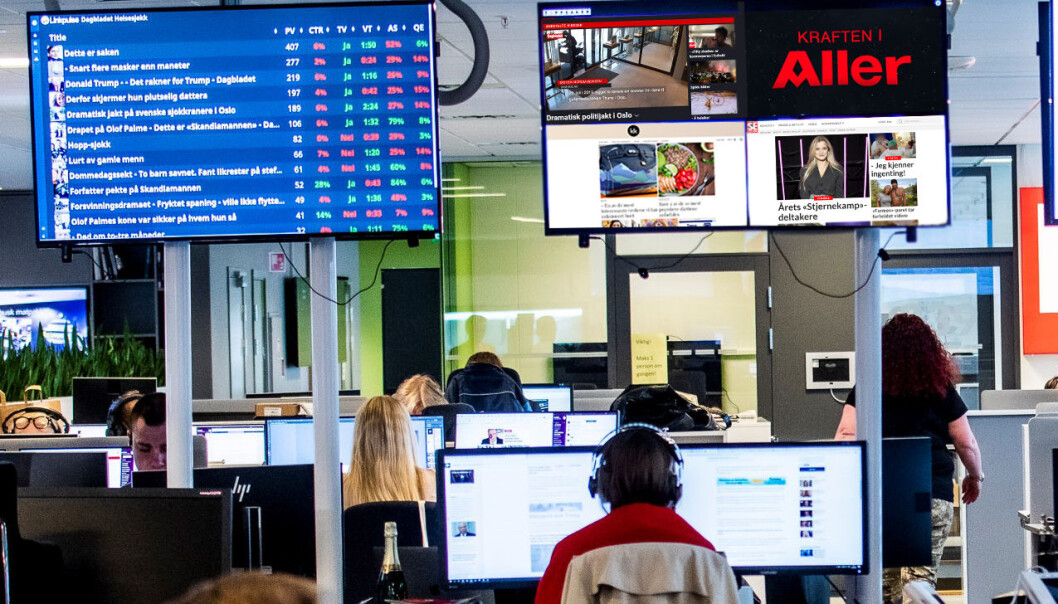 UX/UI | Aller Media AS | OSLO
Are you interested in news, media, and storytelling? Ad designing visuals, interactive elements for websites and apps to that equation and you might just be Aller Media`s new UX/UI designer!
Do you want to join Aller media on the journey to become the best media company in Norway? Do you want to help build the news experience of the future?
Are you interested in news, media, and storytelling? Ad designing visuals, interactive elements for websites and apps to that equation and you might just be Aller Media`s new UX/UI designer.
" We are looking for someone with a wholesome sense of responsibility. Someone who puts the product first, and makes sure that websites and apps not only look great, but are accessible, inclusive, and intuitive "
Aller Media has focused heavily over the last few years on improving its core capabilities around data and technology, and now aims to provide the same attention to improving on the design. We are looking for UX/UI designers to join us on that journey, and help us to become the best design media company in Norway.
About Aller Media
Aller Media is one of the largest media conglomerates in Norway. The company has a wide range of products, from breaking news with Dagbladet as the front runner to typical magazine products like Se og Hør and KK. In addition, Aller Media has a strong position with several leading brands in marketing services. Aller Media has been very successful in transforming its business, and many of our brands hold leading positions digitally. We are about 600 employees in Norway and the turnover is approximately 1,8 billion NOK.
The position of UX/UI designer
At Aller Media, you get good opportunities to experiment and learn. We focus on quality products and want you as a designer to gain ownership and a long-term relationship with what you make.
This position is part of Aller's media platform team. The team has around 15 developers and designers, all working on the most advanced features and systems across Aller's sites and services. In this role, you will be involved in each project you work on from the beginning, helping to outline a direction for the project and creating visual designs that deliver on the company's objectives. We are systematizing our design, and you will be instrumental in achieving that goal. This is a unique opportunity for you to set your footprint.
Technologies we use: Adobe XD, Figma, Sketch HTML/CSS. ( The design team is moving over to Figma alongside some of our frontend developers, so we will be preferably work in Figma when this is in place.)
Who are we looking for?
You have a deep understanding of UX methodologies, processes, and principles. You are up-to-date on trends and theory within the profession and are passionate about design and technology. You enjoy being in a creative environment and a team –where we all share the passion to create great products.
Technical qualification and interest
Bachelor in Product Design, Interaction Design/UX Design, or similar
Knowledge of UX processes and ways of working
UX research general
Experience with design systems
Familiarity with tools such as Adobe XD, Figma, Sketch, etc.
Strong communication in English and Norwegian
Experience with usability principles and testing, and with interaction design for mobile, web, desktop, or embedded system applications
Proficiency in visualization, wireframing, and prototyping tools such as Figma, Adobe Suite, and Framer
User feedback within the application - ensure that good and understandable messages are shown at the right time with the right content
You love creating designs that will convey and reach a lot of people
What can we offer you?
Autonomy
An enthusiastic and creative team
Working on things more on the «new side» than on the platform side. In other words; more focus on storytelling.
Manage your own work
Cabin for a week in the winter for Hackathons
Cabin trips in the summer for Hackathons
Few places that have the reach as Aller Media do
The ability from the tech-side to build up features and do it your way
A central role in a company in high growth, with great impact and opportunities for career and personal development.
Do you want to join Aller media on this great journey to becoming the best media company in Norway?
If yes, we look forward to hearing from you, and feel free to apply via the apply link. At this stage, we only require your CV or link to your LinkedIn profile. Alternatively, feel free to get in touch with our recruitment partner, Fathia Omer, in AvantGarde Search. Fathia has a detailed prospect she will happily send to you. ([email protected] / +47 40 05 37 96).