Ledig stilling: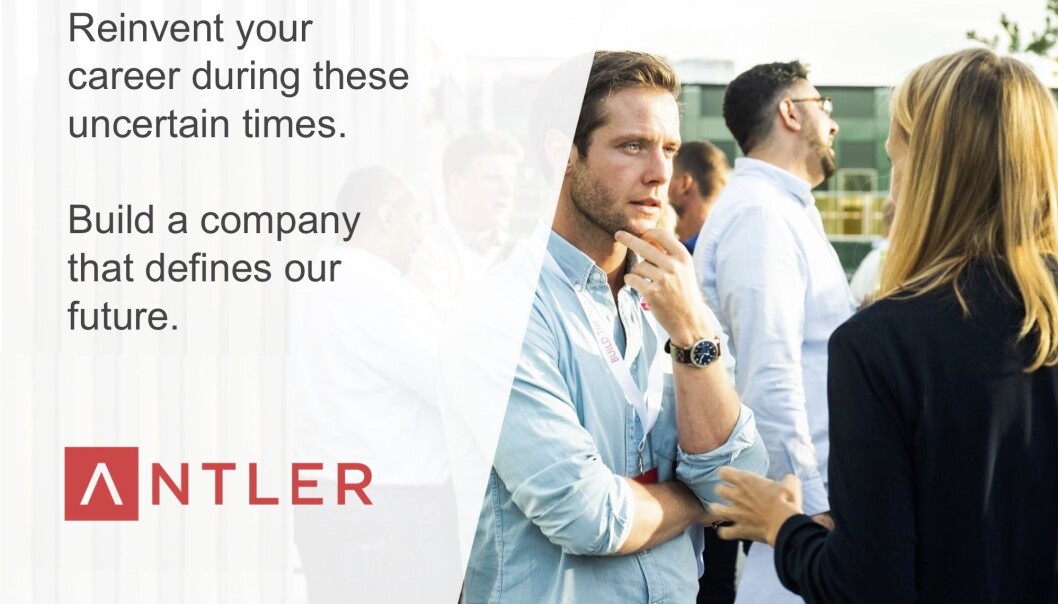 Global VC looking for entrepreneurial minds to build startups in Oslo
Stillingen er ikke lenger aktiv.
Reinvent your career during these uncertain times. Build a company that will be part of the future, with investment support from a global VC right here in Oslo. Apply today for the Jan 2021 program.
(Note: We give out offers on a rolling basis, so we recommend that you apply as soon as possible)
Who are we?
Antler is an early-stage VC that turns the world's best professionals into great founders of impactful technology companies. We find and enable the most dedicated technical and non-technical entrepreneurs, help them find the right co-founder, and connect them to a mentor network of business and technical domain experts worldwide.

Antler was started in 2017 in Singapore by Google, Spotify, McKinsey, Harvard, MIT, and Stanford alumni who previously founded successful enterprises of their own around the world. We are an open-minded organization with a diverse group of people. We have a fast-paced, fun working environment with accessible local and global teams. We base our company on trust and ownership and encourage all employees to speak up and forward their position when they believe something should be done differently.
Let's talk about the specifics. Through our program(s), you will:

Find Your Co-Founder – 60% of startups fail because of a wrong co-founder pairing. We work very actively with co-founder matching and see it as one of our core focus areas. We select the top ~3% of individuals that we deem have what it take to be a Founder. The first month is centered around supporting and facilitating sessions to ensure founders get every opportunity to meet their ideal co-founders from a diverse cohort of industry, commercial and technology leaders. Founders will have the chance to test working together as well through various industry-specific sprints.
Get Funded from Day One - We provide funding from day one via an initial monthly grant, pre-seed investment and a clear pathway to capital via connections to leading investors and VCs
Validate Your Idea(s) – Founders go through a thorough problem and idea validation process; startups drive to first customer acquisition results with help of dedicated coaches
Access A Global Advisory Network - We provide hands-on support through an exceptional network of global and local advisors to give our founders an unfair advantage and all teams are invited to our alumni network and have direct access to other like-minded founders.
In the summer of 2018, the first Antler program launched in Singapore. Since then we have run programs in eight locations across four continents. To date, Antler has attracted ~50,000 applications to its programs globally. Of those applications, ~1,200 entrepreneurs have been accepted.
Here in Oslo, we are actively interviewing for our 3rd Cohort which kicks off this January 18, 2021. You can learn more about our vertical-focused program here: https://www.antler.co/oslo
What do we look for?
Drive
We are looking for people who will run to the end of the world to achieve their goals. Your resilience and ability to fail, learn, and bounce back is a key determinant of success.
Problem-solving skills
We look for those who have a unique and very creative way to approach the problems they see around them.

A clear spike
We look for individuals with a clear spike or deep expertise in their fields of work, be it in research or in a specific industry.
Instead of waiting for the right idea and co-founder to pop into your life, make it happen for yourself.
Apply now to stop dreaming and start building!